2301 Plastic Surgery: Michael A. Bogdan, MD, FACS
2301 Westgate Plaza
Grapevine, TX 76051
Phone: (817) 442-1236
Monday–Friday: 9 a.m.–5 p.m.

Arm Lift (Brachioplasty)
Patients who have undergone massive weight loss often have excess skin on their upper arms. Hanging skin, sometimes referred to as "bat wings," can be more bothersome than the full arms which had been present before weight loss. Bat wings are certainly not an adequate reward for the efforts involved in losing so much weight! For patients who want to remove this excess arm skin, brachioplasty is the solution. Dr. Michael Bogdan performs brachioplasty surgery (or arm lift) to help Fort Worth, Frisco, Plano, and Grapevine residents tighten this excess skin and contour their upper arms.
Brachioplasty

Before & After Photos
WARNING:
This feature contains nudity. Please click OK to confirm you are at least 18 years of age and are not offended by such material.
OK
Brachioplasty

Before & After Photos

Keep in mind that each patient is unique and your results may vary.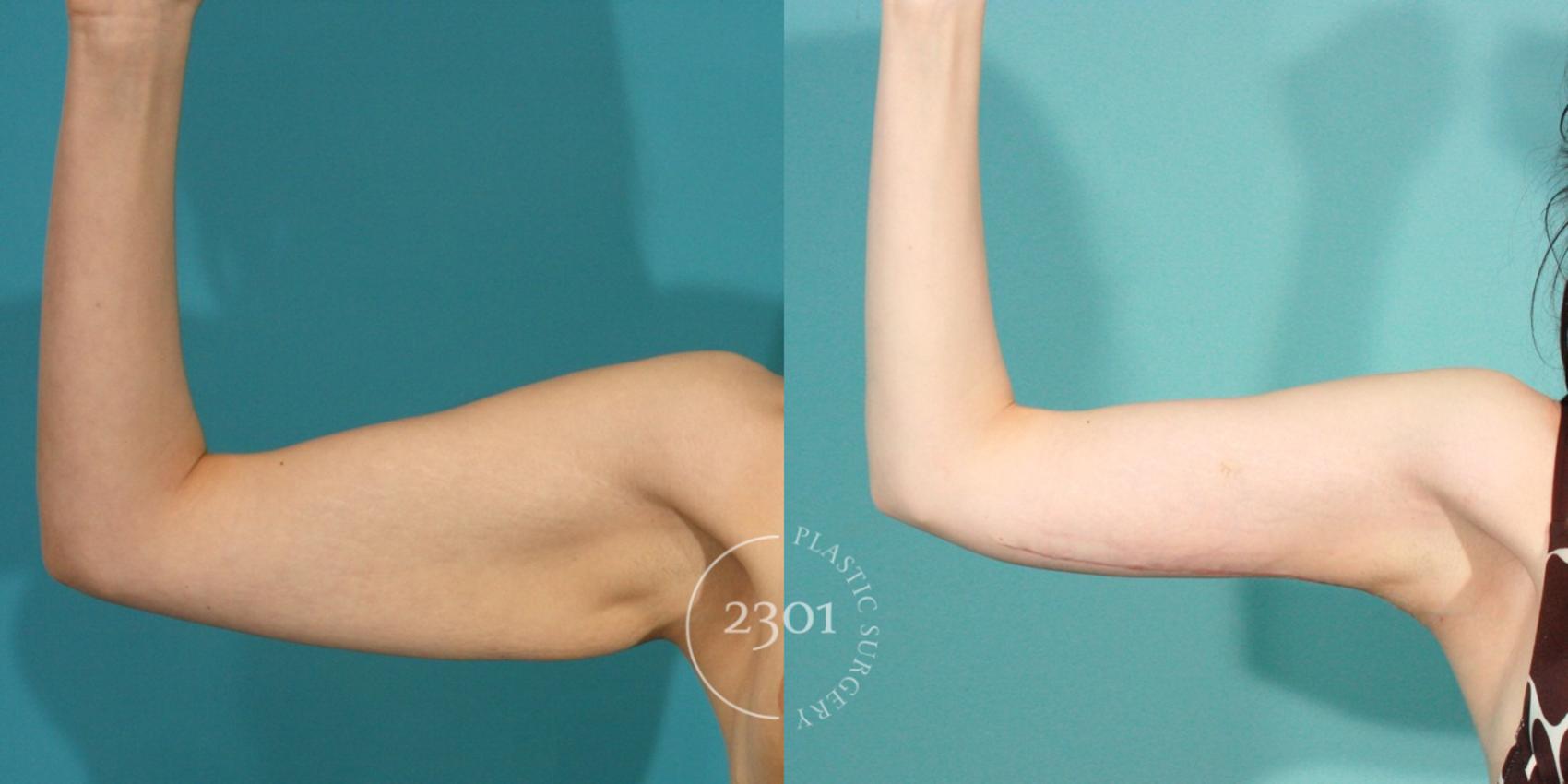 Before & After
Case #77
This 22 year old woman from the Dallas area presented to my Southlake plastic surgery practice with complaints of skin excess after weight loss. Through a self-motivated program of diet and exercise, she had managed to lose over 70 lbs, down to her goal of 140 lbs. Now that she had a healthy and energetic lifestyle, her residual skin laxity w...
Read More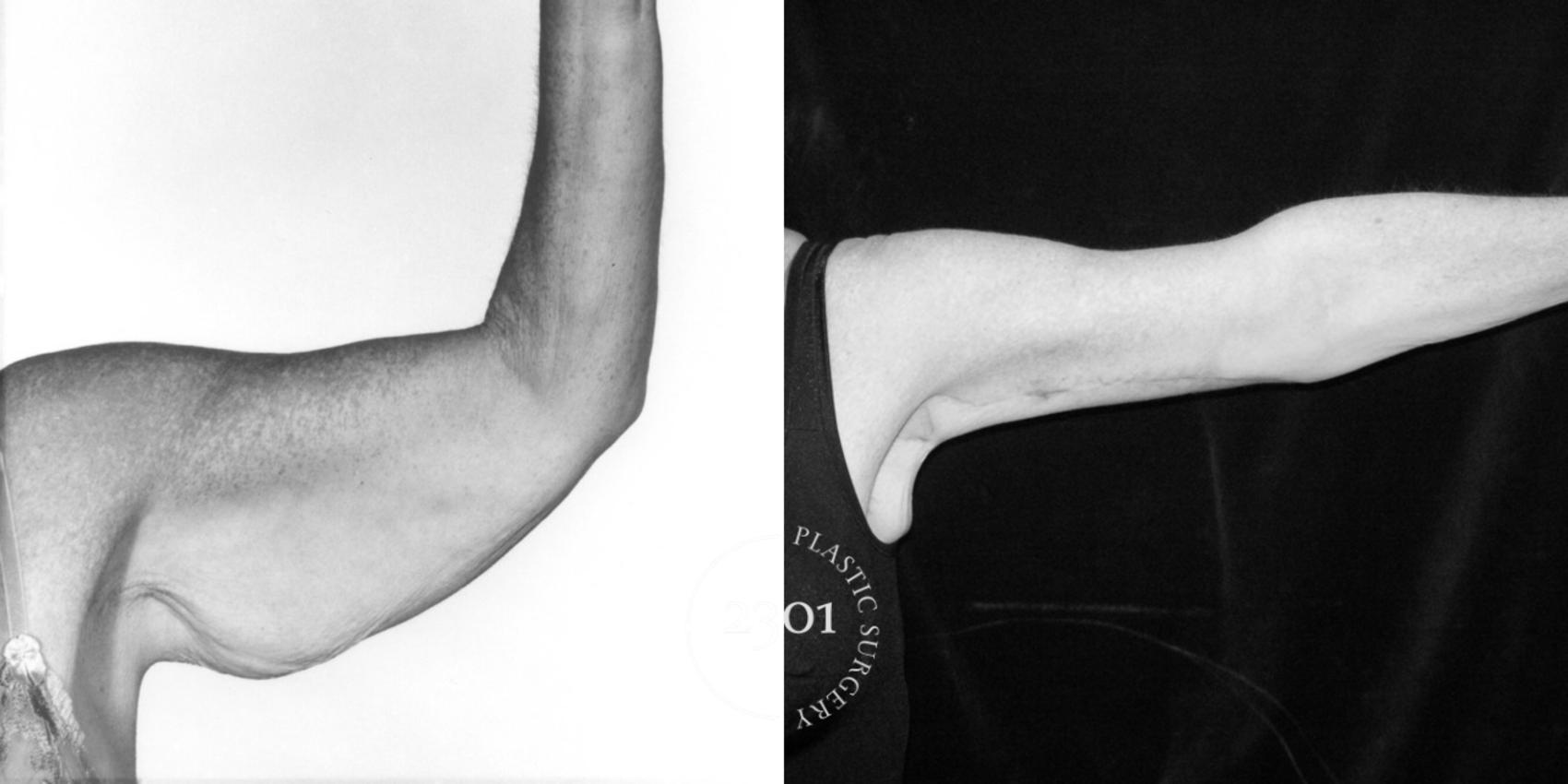 Before & After
Case #56
This patient is a very pleasant woman in her mid 50's who had lost a significant amount of weight. She was bothered by the 'bat wing' appearance of her arm skin, and requested a brachioplasty (arm lift) procedure. Because of the amount of skin excess, with extension onto her torso, I performed with surgery with a 'z-plasty' in the axilla to a...
Read More
Keep in mind that each patient is unique and your results may vary.
There are two main types of brachioplasty procedures:
Mini brachioplasty – (aka: Short Scar Arm Lift)
The scar from a Mini Brachioplasty is confined to the armpit and the tightening force is tangential to the arm. As with every other plastic surgery operation, patients are seeking shorter scars but are still desiring maximal results. The attraction of this operation is the short scar and it's location; however, it does not produce significant results, and can interfere with arm mobility. For these reasons, Dr. Bogdan does not offer this operation to his patients.
Dr. Michael Bogdan
Dr. Bogdan is a board-certified plastic surgeon with a passion for his craft who is known for working closely with patients to get excellent results.
Standard brachioplasty
The scar from a Standard Brachioplasty runs from the armpit to the elbow, and skin excess is removed radially around the arm. This operation can fully address the "bat wing" skin excess and produces a drastic result for the proper patient. The down-side of the traditional brachioplasty is that it leaves a visible scar on the upper arm and is therefore only suited for patients who are willing to trade the excess skin for the scar. Dr. Bogdan prefers to place the scar along the posterior-medial component of the arm, which tends to hide the scar nicely. The scar certainly will be visible if you go looking for it, but with most outfits and activities it will be well hidden.
The surgery takes approximately 2 hours to perform and is done on an outpatient basis. Ace wraps are worn immediately after surgery, and later are exchanged for a compression garment to assist with swelling. The surgery is not particularly painful and exercise is limited for 2 to 3 weeks.
If you would like further information about arm lift surgery or other body contouring procedures suitable after significant weight loss, please click here to schedule a consultation with Dr. Michael Bogdan, a board-certified plastic surgeon in Grapevine, Texas. Dr. Bogdan looks forward to meeting with you to discuss your personal goals and establish a treatment plan to achieve them. If you prefer, you can call us at (817) 442-1236 to schedule your appointment.
App for iPhone® & iPad®
If you have an iPhone or iPad, Dr. Bogdan encourages you to download his enhanced photo gallery application. This FREE app is available for download from the App Store℠.
Download from the App Store
Back to Top