Dr. Bogdan's Coronavirus Notice
Although we are open, we have limited office hours and use screening protocols to help reduce the spread of the Coronavirus. Please consider an Online Consultation from the safety of you home. Stay healthy!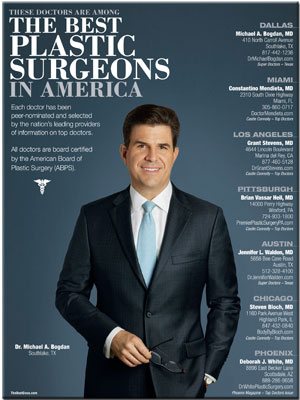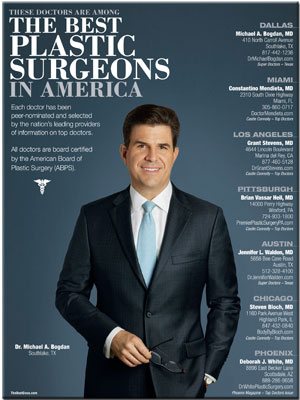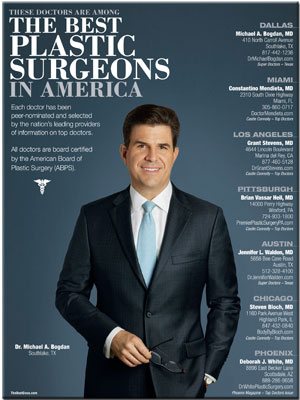 Dr. Bogdan is honored to appear in Celebrated Living, as one of The Best Plastic Surgeons in America. Each doctor has been peer nominated and selected by the nation's leading providers of information on top doctors. So, if you are flying first class on American Airlines, look in your seat-back pocket and you'll find Dr. Bogdan in Celebrated Living, one of the best in-flight magazine in the world. Dr. Bogdan is honored to be among a group of featured physicians who have been selected by the nation's leading providers of information on top doctors such as: Castle Connolly Medical Ltd., Super Doctors, Consumer's Checkbook and many city magazines that run peer-nominated Top Doctors issues.
World-class cosmetic surgery: Dr. Bogdan has spent many years refining his craft, and is a strong believer in delayed gratification—taking the time to learn the most and be the best. His formal educational pedigree is impressive, with both medical school and plastic surgery residency at Stanford University, followed by a world-renowned cosmetic surgery fellowship with New York University. He has spent years with the masters in aesthetic surgery, learning their techniques and ways of thinking.
A leader in the aesthetic surgery field, Dr. Bogdan has contributed years to the professional advancement of board certified plastic surgeons that specialize in cosmetic surgery. He has served on the Board of Directors of both the American Society of Aesthetic Plastic Surgery, and the Aesthetic Surgery Education and Research Foundation. He is a Fellow of the American College of Surgeons and is one of the 330 U.S. members of the International Society of Aesthetic Plastic Surgery.
Dr. Bogdan runs a very personal practice, taking individual care of all of his patients. His skills are sought by patients from throughout the USA (with patients from Florida to Alaska), and patients have literally traveled around the world (from as far as Japan and India) to have Dr. Bogdan perform their surgery.
Dr. Bogdan has special interest in full facial rejuvenation procedures, rhinoplasty, and mommy-makeovers. While words about training and praise from patients may sound impressive, Dr. Bogdan's work speaks for itself. We strongly encourage you to review his photo gallery to see the quality of his work. Pay attention to the details in the surgery when making comparisons— Dr. Bogdan shows many views so the overall change can be seen, rather than just cherry-picking the "best" photos. Gallery photos are larger and higher resolution so that you can see the fine details (for such simple things like earlobes, or belly-buttons) that are the defining aspect of excellent cosmetic surgery vs. "acceptable" work. Please judge for yourself.