2301 Plastic Surgery: Michael A. Bogdan, MD, FACS
2301 Westgate Plaza
Grapevine, TX 76051
Phone: (817) 442-1236
Monday–Friday: 9 a.m.–5 p.m.

Meet Our Staff
When you visit Dr. Michael Bogdan's plastic surgery practice in the Dallas-Fort Worth, Texas area, either for cosmetic injectables or plastic surgery, you'll be treated with the utmost care and compassion. The friendly, helpful, and knowledgeable members of Dr. Michael Bogdan's staff create a welcoming environment each time you visit either our Grapevine, TX, location. Patient care is our first priority and our staff is an essential part of ensuring your experience is enjoyable.
Dr. Bogdan is widely known as one of the best plastic surgeons in Dallas-Forth Worth — an honor made possible by the support of his talented, experienced staff. Request a consultation using our online form to meet with Dr. Bogdan, or call our office at (817) 442-1236 to schedule an appointment.
Ana, Patient Care Coordinator
Ana is excited to be an integral part of 2301 Plastic Surgery. Happily married to her High School sweetheart with 3 awesome kids, her energy and excitement is contagious. Ana found the love of Plastic surgery in 2013 and has enjoyed what this field has provided emotionally for both her and all of the people we can help. Ana respects the trust that patients invest in her, and feels honored to help our patients achieve their body goals.
Kirstine, Front Office Coordinator
Kirstine joins with a background in Human Resources, having most recently held the role of HR Manager and Associate Director for a Branding consultancy. She has held positions of increasing responsibility in Human Resources in diverse industries including, Leisure, Film industry and Publishing.
Kirstine is originally from the United Kingdom but has resided in the United States since 2001. Kirstine is married with two children. In her free time Kirstine enjoys oil painting, skiing and walking her two dogs.
Denise, Receptionist
Denise is an ambitious, goal driven individual who thrives on learning and educating people. She is one of the many ladies you'll meet at the receptionist desk. Denise is the oldest of two, enjoys being a caregiver for young children, loves to travel, and spend time with friends.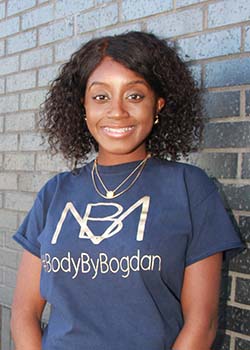 Sarah, Aesthetician
Sarah is a licensed aesthetician and laser technician with a long time passion for skincare. She continues to expand her knowledge of procedures and treatments and truly enjoys educating her clients on skincare so that they can make informed decisions that meet their skincare goals. She is on a mission to provide each and every client with ethical, results-focused procedures and skincare. Sarah is a wife and mom to two beautiful girls. When she's not working, she enjoys spending time with family, traveling, and taking care of her dogs, and chickens.
Idali, Medical Assistant
Idali is enthused to be an integral part of the 2301 Plastic Surgery team, by serving as the medical assistant. She has enjoyed her years of experience as a medical scribe in a level one trauma center while working alongside various medical professionals. She values her current position as a volunteer at Children's Medical Center serving patients and their families. Idali is excited to care for our patients and hopes she can provide the circumferential support and care our patients need.
Idali grew up in Dallas, TX and has two other siblings. She enjoys photography, spending time with friends and family, and volunteering in her leisure.
Rose, RN, BSN, Director of Surgical Services
Rose moved here from Colorado with her husband and two children and is living in Keller, TX. Her helps patients both on the surgical and non-surgical side of the office. In 2004, Rose obtained an esthetician license and worked at a Hilton for several years as a skincare specialist. She has always been driven by science and later made a decision to return to school and earned her BSN from University of Colorado in 2013 and has over 6 years working in the surgical field. She continues to educate herself with new technology on skincare to aid in minimizing the process in aging. She has had extensive training and is certified in aesthetic injectables such as Botox and dermal fillers. Rose is ecstatic to be working with such an amazing team from 2301 Plastic Surgery.
Mary, Circulating / Recovery Nurse
I've been a Registered Nurse for 40 years. I've worked in the operating room for the last 22 years. My husband and I moved to Texas in 2020 to be near our 3 grandchildren.
I was unbelievably lucky to find work with Dr. Bogdan and Dr. Veve. I love 2301 Plastic Surgery and I know you will too.
Dodrelan, Surgical Technician / Sterile Processing
Dodrelan joins us with a background in cosmetology, aesthetics and hospitality. She has transferred her skills in service to surgical technology and instrumentation.
Dodrelan grew up in Dallas. She has four sons. In her free time Dee enjoys jogging and strength training.
App for iPhone® & iPad®
If you have an iPhone or iPad, Dr. Bogdan encourages you to download his enhanced photo gallery application. This FREE app is available for download from the App Store℠.
Download from the App Store
Back to Top