2301 Plastic Surgery: Michael A. Bogdan, MD, FACS
2301 Westgate Plaza
Grapevine, TX 76051
Phone: (817) 442-1236
Monday–Friday: 9 a.m.–5 p.m.

Meet Dr. Cason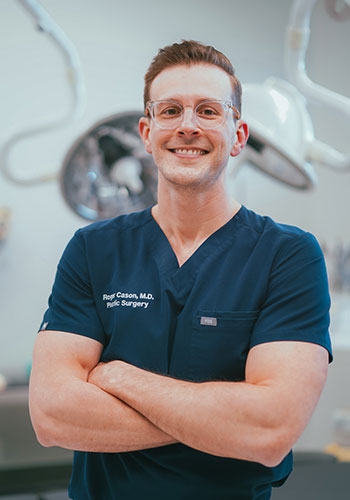 Dr. Roger Cason's passion for aesthetic surgery shines through in his work, emphasizing a meticulous attention to detail to help patients meet their goals. Combining unparalleled surgical training at Duke University with specialized aesthetic expertise gained through an additional fellowship at Dallas Plastic Surgery Institute, Dr. Cason offers modern, advanced surgical techniques of the face, breast, and body. He believes in spending time with his patients to guide them through their procedures and help them achieve their optimal aesthetic goals.
Dr. Roger Cason's interest in plastic surgery began after the very first surgical procedure he observed as an undergraduate in Oklahoma City. After studying jazz guitar for two years at the University of Miami Frost School of Music, he realized that a career in music was not his path. However, it was his musical background that helped him truly appreciate the creativity found in plastic surgery. Akin to the dexterity required of a guitarist, a plastic surgeon must also possess technical precision and finesse. Dr. Cason went on to attend medical school in his home state at the University of Oklahoma College of Medicine. While there, his affinity for plastic and reconstructive surgery was affirmed. It was the perfect combination of cutting-edge techniques and artistry, with an element of originality reminiscent of his time studying jazz music.
Dr. Cason completed a rigorous 6-year residency in plastic and reconstructive surgery at Duke University Medical Center. While at Duke, he gained extensive experience in all aspects of aesthetic and reconstructive surgery, including complex microsurgical reconstruction, breast reconstruction, head and neck reconstruction, craniofacial reconstruction, complex hand surgery, and all aspects of aesthetic surgery of the face, breast, and body. Of the various disciplines of plastic surgery, he was drawn to aesthetic surgery due to its complex preoperative planning, surgical precision, and rewarding patient results. After residency, he completed an additional year of training in aesthetic surgery at the Dallas Plastic Surgery Institute, where he fine-tuned his skills under the top plastic surgeons in the country.
Beyond his surgical training, Dr. Cason has published over 25 papers and textbook chapters in the field's leading journals, covering a breadth of topics from breast reconstruction to facial aesthetics. He has won multiple awards for his scholarly endeavors, including the Bostwick Award for best resident paper in breast surgery, and achieved the highest score on the In-Service Training Exam four years in a row. He is active in the American Society of Plastic Surgeons, the Aesthetic Society, the Rhinoplasty Society, and the Plastic Surgery Research Council. He has also been a speaker at both The Aesthetic Society and The Rhinoplasty Society annual meetings.
Outside of plastic surgery, Dr. Cason enjoys spending time exploring his new home of Texas with his wife Rachel and their dog Jack. Dr. Cason continues to be an avid guitarist and welcomes any recommendations for restaurants to try. Please send him recommendations on Instagram!
To schedule a personal, private meeting with Dr. Cason to discuss your aesthetic concerns, request a consultation using our online form or call our office at (817) 442-1236.