2301 Plastic Surgery: Michael A. Bogdan, MD, FACS
2301 Westgate Plaza
Grapevine, TX 76051
Phone: (817) 442-1236
Monday–Friday: 9 a.m.–5 p.m.

Mommy Makeover Before & After Case 233
*Keep in mind that each patient is unique and your results may vary.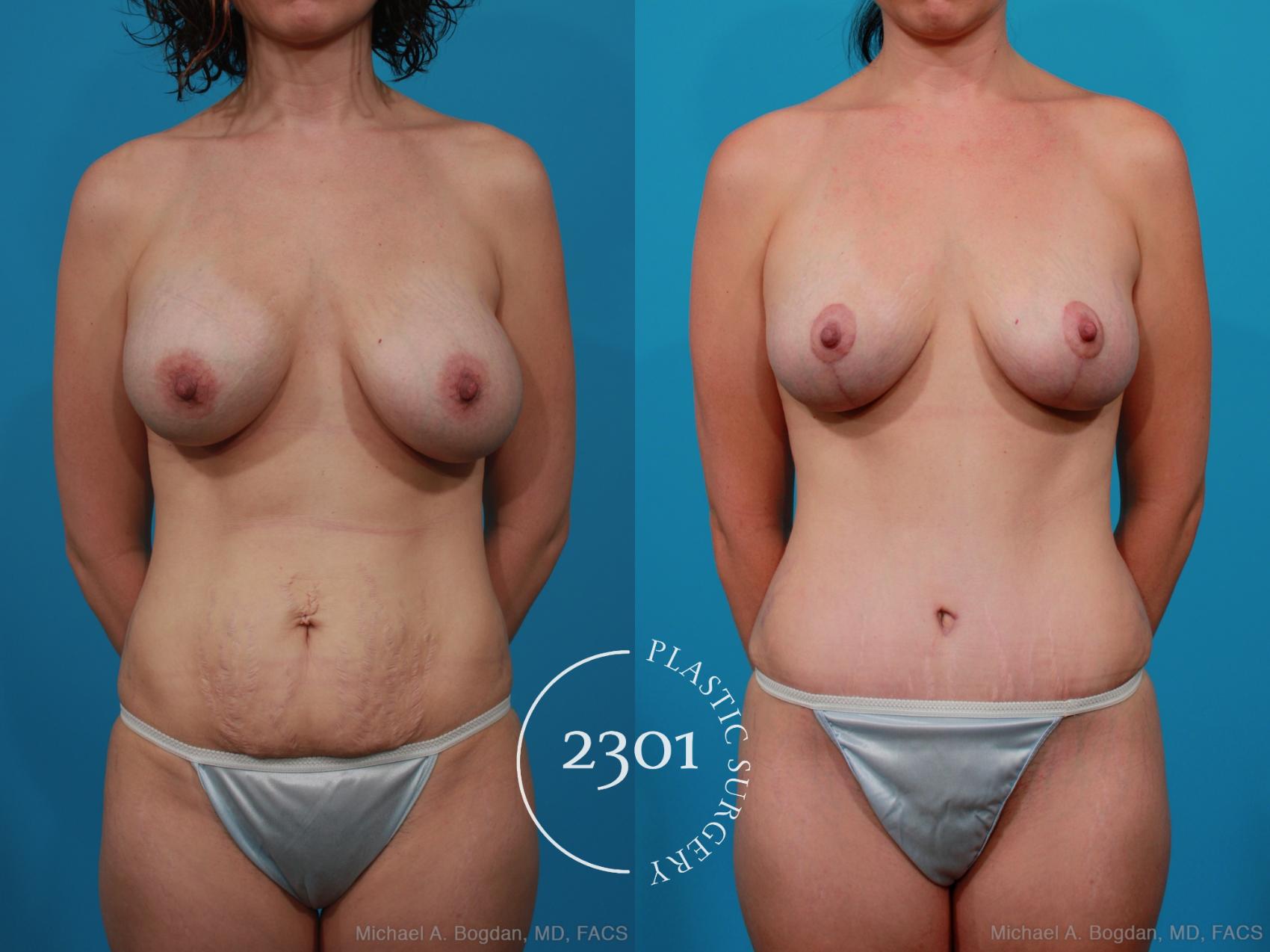 Before & After
This 30 year old mother of 4 from Fort Worth became interested in my practice after researching patient stories on RealSelf. She had been considering a Mommy Makeover and noticed that my patients seemed to have an easy recovery after surgery. She already had undergone breast augmentation surgery after her first two children due to breast deflation, and had DD breasts with 500cc saline implants. Now after two more children, her breasts had lost their perk, and the left breast had drifted to the side. Ideally, she desired perky breasts that were a bit smaller (C cup) to fit with her thin frame. After her children and 50 lb weight fluctuation, her stomach was now lax and her skin had stretch marks. She came to my office with a plan in mind: switch out her current implants to a smaller size, perform a breast lift to regain perk, and perform a tummy tuck. I agreed with everything she had in mind, but also wanted to adjust the internal breast capsule to help centralize the left breast.

Surgery went smoothly. As she had been quite happy with her previous saline implants, we decided to stay with saline. I exchanged her 500 cc high profile implants for 300cc moderate profile saline implants. A left sided capsulorrhaphy was performed to move the implant back into the correct position, and then the anchor incision breast lift was completed. Next, I performed a top-down abdominoplasty, tightening her abdominal wall 8 cm and removing 665 gm of stretched-out skin. The operation took 5 hr and 2 minutes to complete.

She had a pleasant recovery, and is quite happy with the results. Photos were taken 2 months after surgery.
Procedures Performed
Saline Implants
Breast Augmentation Revision
About This Patient
Implant Placement
Submuscular
Implant Contents
Saline Implants
Breast Incision Type
Inverted T
View All Patient Photos