2301 Plastic Surgery: Michael A. Bogdan, MD, FACS
2301 Westgate Plaza
Grapevine, TX 76051
Phone: (817) 442-1236
Monday–Friday: 9 a.m.–5 p.m.

Breast Augmentation Revision Before & After Case 113
*Keep in mind that each patient is unique and your results may vary.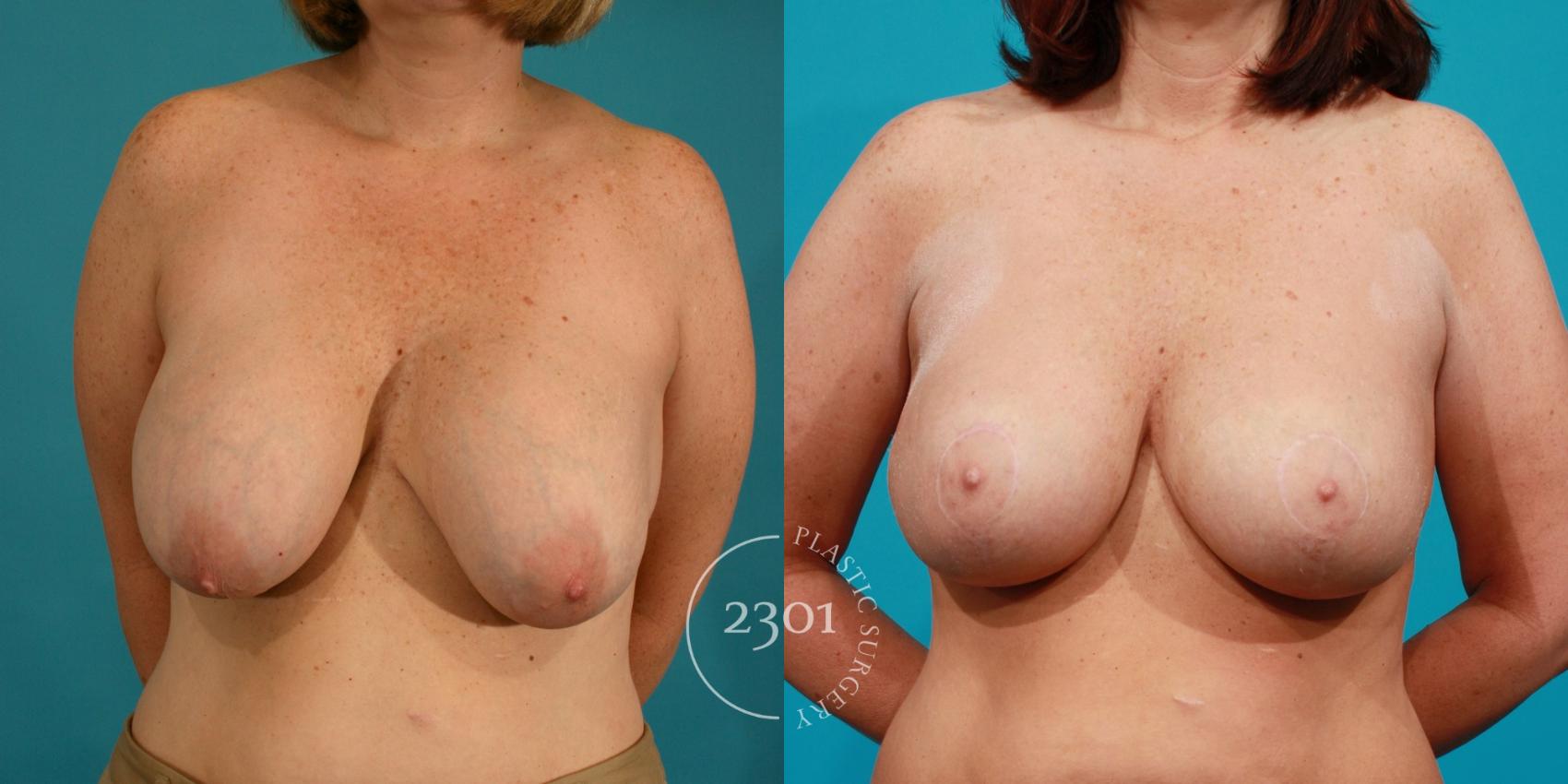 Before & After

This 38 year old woman from the Keller region of Texas visited my Southlake office interested in revisional breast augmentation surgery after undergoing significant weight loss. She had previously had breast augmentation with approximately 325 cc saline implants placed in the subglandular position via the periareolar approach and was happy with her volume (38DD), but did not like the current appearance of her breasts. With her weight loss, she lost some volume from her breasts and also noted a deflated appearance. She wanted a more rejuvenated look to her breast to complement her figure as she continued to loose weight.

In addition to the notable breast droop off of her saline implants, I also noted that she had significant positional asymmetry of her breasts on her chest, with the right side inframammary fold being higher than the left. We spent time discussing all of the surgical options available to her, and decided that exchanging her saline implants to silicone at the same time as a breast lift would achieve the results she was hoping for. Silicone breast implants in Dallas would make her breasts feel more naturally soft, and we could slightly increase her volume. In relation to the breast lift, we decided on the anchor mastopexy) procedure so that I could improve the fold height symmetry of her breasts while performing the lift.

Surgery was uneventful, and recovery was relatively smooth. (As she is an exercise enthusiast, we were concerned about the lower portion of the breasts appearing red right after beginning to exercise, but this resolved with time.) She is very happy with the appearance and feel of her breasts. Photos were taken 8 months after surgery, just before a body lift procedure.
Surgeon: Michael A. Bogdan MD
About This Patient
Implant Placement
Subglandular
Breast Incision Type
Inverted T
Back to Top