2301 Plastic Surgery: Michael A. Bogdan, MD, FACS
2301 Westgate Plaza
Grapevine, TX 76051
Phone: (817) 442-1236
Monday–Friday: 9 a.m.–5 p.m.

Rhinoplasty Before & After Case 182
*Keep in mind that each patient is unique and your results may vary.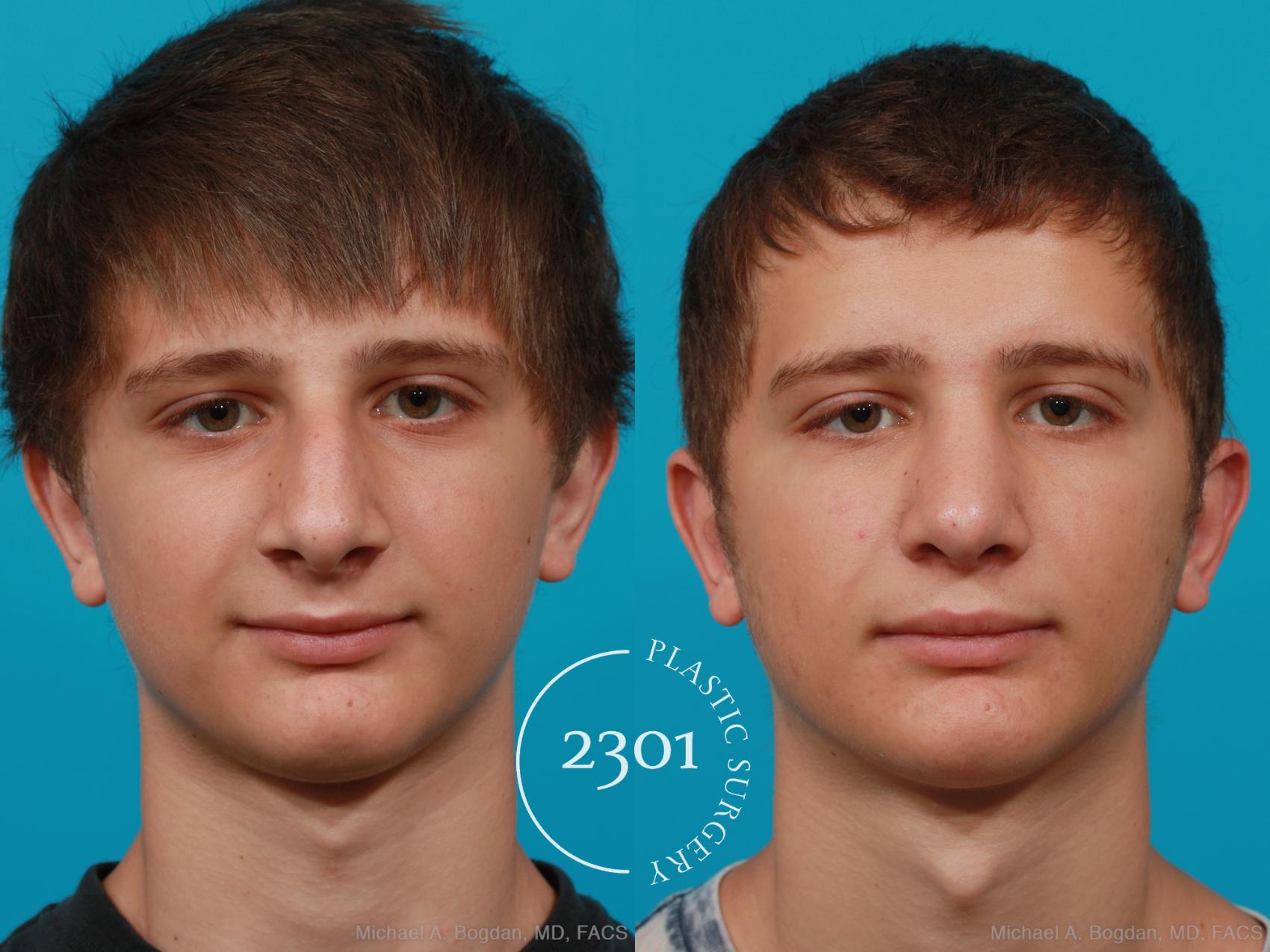 Before & After

This young man was extremely self-conscious about having a large nose. While growing up, he had been teased about his nose, and did not like anyone viewing him from the side. His desire to be seen only front-on was affecting his social interactions as he did not want to participate in groups of more than 2 people because someone would be viewing him from the side. He strongly desired a reduced nose that fit more harmoniously with his facial profile.

On examination, I found that he had normal skin thickness with overly strong nasal cartilage. His septum was overgrown, creating a large dorsal hump as well as internal septal deviation. He also had malpositioned alar cartilage and significant alar flare which made his nose look wide on frontal view and created a clover-leaf deformity from below. We addressed these issues by performing an open septorhinoplasty with a dorsal reduction to lower the hump, a septoplasty to correct the deviated septum and provide donor cartilage, and low-to-low infractures to narrow the bony pyramid. A left sided spreader graft was necessary to address dorsal septal deviation. The tip was corrected with a cephalic trim to decrease volume, a columellar strut for support, and unification sutures to define the tip. To address the alar flare and cloverleaf deformity, lateral crural strut grafts were placed to reposition the lower laterals and asymmetric alar base reductions were performed.

Photos are shown one year after surgery. He now has a strong masculine nose that fits with his facial proportions. He no longer has to worry about how people look at him, and can focus his attention on other things in life.
Surgeon: Michael A. Bogdan MD
Back to Top