Michael A. Bogdan, MD, FACS
2301 Westgate Plaza
Grapevine, TX 76051
Phone: (817) 442-1236
Monday–Friday: 9 a.m.–5 p.m.

Case #92
*Keep in mind that each patient is unique and your results may vary.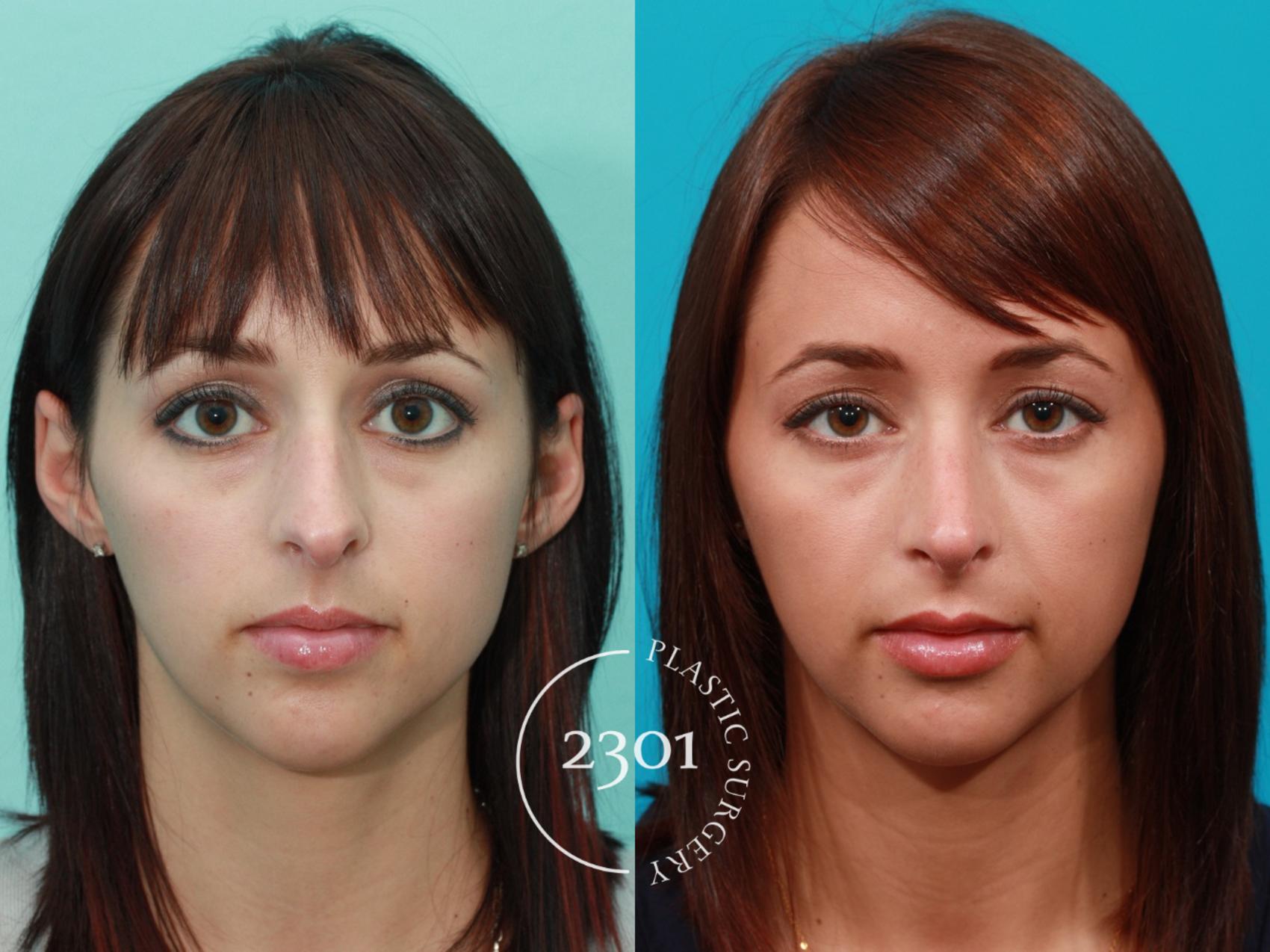 Before & After

This is a 27 year old woman from the Euless, Texas area who came to my Southlake, Texas plastic surgery office interested in rhinoplasty surgery (nose reshaping). She had been considering nasal surgery for a number of years, and had already seen three other rhinoplasty surgeons for consultations. Her surgical goals included reduction of her dorsal hump, tip refinement, as well as reduction of her upper lip show. Additionally, she notes that the tip of her nose moved markedly when speaking and hoped this could be addressed as well.

During examination, I noted her nose was disproportionately large for her thin facial features. On frontal view, she had a narrow dorsum with an asymmetrically wide mid-basilar region. Her nose appeared long with too much infra-lobular show. During casual conversation, her nasal tip dropped back markedly, showing the caudal edge of her right upper lateral clearly through her thin skin (a very rare and abnormal appearing finding). On profile view, she had a high dorsum with a tension tip that dropped away when smiling, too much columella show, and a shortened upper lip. From a functional standpoint, her internal valves were deficient, collapsing during easy inspiration. In cases such as this where tip support is poor, I prefer the open rhinoplasty technique, as it allows for greater control of the internal elements of the nose, and is a better method for creating stable tip support.

After discussion of our goals and the surgical steps necessary to achieve these goals, she decided to move forward with surgery. The operation proceeded very smoothly. I utilized the open approach for exposure, and performed a component dorsal reduction. I conserved the upper lateral cartilage for use as auto-spreaders to maintain middle vault width and address her middle vault deficiency. The columella was shortened to decrease columella show and lengthen her lip. A septoplasty was next performed to harvest a columella strut that was necessary to support her deficient medial crura. The tip was addressed by modifying the lower lateral cartilages and performing suture techniques for refinement. Finally, low to low osteotomies with asymmetric infracturing was performed to narrow the bony width of the middle portion of her nose.

Her post operative pictures are shown at 6 months, still with a bit of edema, but nicely displaying the results we have achieved. She is very happy with her appearance, and notes a dramatic change in the dynamic properties of her nose, both with tip stability as well as ease of airflow.
Surgeon: Michael A. Bogdan MD
Back to Top