2301 Plastic Surgery: Michael A. Bogdan, MD, FACS
2301 Westgate Plaza
Grapevine, TX 76051
Phone: (817) 442-1236
Monday–Friday: 9 a.m.–5 p.m.

Dr. Bogdan's App for iPhone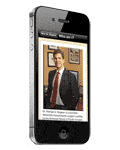 Dr. Bogdan is excited to announce an update to his application for the iPhone! This FREE app is available for download from the App Store℠. (It is a large app and requires a WiFi network to download.)
---
Why should I get the app?
Take the Videos with You!
Most of the educational videos Dr. Bogdan created for his websites are included in the app. This is useful for those who want to watch the videos in high quality, but don't like slow wireless connections (or would prefer to save their data plan for other uses).
Enhanced Photo Gallery
This app has a photo gallery that is better than any available on-line. All photos are optimized in high resolution for the iPhone X Retina display. For each case presented, more views are shown than on-line. The application can show the traditional Side-by-Side Before & After views, but also allows the user to Morph from the Before to the After photograph. This clearly demonstrates even subtle changes and visually demonstrates the change from the surgery.
FAQs and Procedural Text
Although the app is highly visually oriented, it does contain text reference materials that are useful for learning about the procedures that Dr. Bogdan performs.
---
Version 3.0 of the app has just been released, and is now enhanced for 64 bit iOS 11! It is set for the iPhone X and iPad Pro!
---
Dr. Bogdan is quite pleased with this app, and hopes that you find it useful. If you happen to find any bugs or think of any areas to improve or enhance, please feel free to e-mail your comments to: [email protected]. Thanks!
App for iPhone® & iPad®
If you have an iPhone or iPad, Dr. Bogdan encourages you to download his enhanced photo gallery application. This FREE app is available for download from the App Store℠.
Download from the App Store