2301 Plastic Surgery: Michael A. Bogdan, MD, FACS
2301 Westgate Plaza
Grapevine, TX 76051
Phone: (817) 442-1236
Monday–Friday: 9 a.m.–5 p.m.

Choosing the Right Breast Implants
Choosing the Right Breast Implants
Women from Fort Worth, Plano, Frisco, and other cities near Grapevine, TX, appreciate beautiful, natural-looking breast augmentation results. Dr. Michael Bogdan personalizes each procedure by offering a full range of breast implant options, including the latest generation of shaped cohesive gel implants. Selecting a board-certified plastic surgeon and breast augmentation specialist such as Dr. Bogdan is the first step in getting the results you want.
Breast Augmentation

Before & After Photos
WARNING:
This feature contains nudity. Please click OK to confirm you are at least 18 years of age and are not offended by such material.
A Variety of Options
While saline implants had been used predominantly since 1992, silicone implants have regained popularity since being re-introduced to the U.S. market in 2006. In 2015, the Ideal Implant was introduced, giving women another excellent option for breast augmentation and breast lift with implants. Each different type of implant has a unique set of characteristics and considerations, and Dr. Bogdan's extensive experience with both saline and silicone will help him guide you in choosing the implant that will best achieve your breast enhancement goals. Choosing breast implants is a very personal decision, and Dr. Bogdan will take the necessary time to go over all of your options at your consultation.
Choosing Breast Implants
Breast augmentation is an exciting process that includes a number of personal decisions. Perhaps the most important one is choosing breast implants that will help you achieve your desired results. Technological advances in the past 10 years have led to the development of cohesive silicone gel implants that most patients and surgeons believe look and feel more like natural breasts than traditional saline implants.
Dr. Michael Bogdan
Dr. Bogdan is a board-certified plastic surgeon with a passion for his craft who is known for working closely with patients to get excellent results.
Traditional Saline Breast Implants
Saline-filled implants were the only option available for most U.S. women seeking breast augmentation between 1992 and 2006. That changed when the FDA again allowed the use of silicone-filled implants. Saline implants filled with a medical-grade saltwater solution pose no health risks. If they rupture or leak, the saline is harmlessly absorbed by the body and eliminated. Traditional saline implants cost less than silicone gel filled implants due to lower manufacturing costs. And since they are filled during the surgery, Dr. Bogdan has some ability to "fine tune" the size of each implant for your procedure.
Most women report the biggest drawback to traditional saline-filled implants is that they tend to look and feel less natural than silicone gel implants. Traditional saline implants, for example, may show wrinkles or ripples, particularly for women with little existing breast tissue or when the implants are placed above the pectoral muscle. Also, if one of these implants leaks or ruptures, there is an immediate and conspicuous loss of volume, which makes revision surgery a more urgent concern.
Silicone Gel Implants
The advanced cohesive and highly cohesive silicone gel implants are vastly improved over earlier generations of silicone implants. The cohesive gel that fills the implants is much less likely to leak if punctured, torn, or cut. To ensure ongoing safety, the FDA continues to monitor silicone implants as part of a post-approval study. The findings of some of these studies are summarized in an informational pamphlet developed by Mentor®.
The vast majority of women in the U.S. and worldwide choose silicone gel implants. They find that silicone produces the most natural looking and feeling results. They rarely ripple or wrinkle and do not slosh like traditional saline implants sometimes do, which is one of the reasons why many women are trading out older saline implants for silicone gel. For various reasons, Dr. Bogdan uses both Mentor and Sientra gel implants. With both implants, he has a full range of size and feel options, and should be able to suggest the best implant for your desired result. There are slight differences in the implant warranties, so it is good to review the specifics: Mentor Warranty, Sientra Warranty.
App for iPhone® & iPad®
If you have an iPhone or iPad, Dr. Bogdan encourages you to download his enhanced photo gallery application. This FREE app is available for download from the App Store℠.
Download from the App Store
The Ideal Implant
The FDA approved a new structured saline implant in 2015 and Dr. Bogdan is one of the few Dallas-Fort Worth breast augmentation surgeons with access to this breakthrough device. The Ideal Implant overcomes the limitations of traditional saline implants, even though it is made using the same materials. Its innovative design makes it almost indistinguishable from modern silicone implants. It feels like a silicone implant, doesn't "ripple" like traditional saline implants, and maintains the same safety profile of saline implants. It is the perfect choice for women between ages 18 and 22, who are prevented from using silicone implants due to FDA age restrictions. Additionally, it is the answer for women who are still concerned regarding the potential risks of silicone gel implants.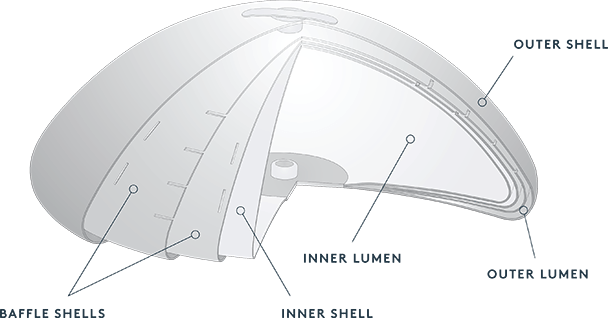 The Ideal Implant's inner shell surrounds the inner chamber, which holds the inner saline filler. An outer shell around the outer chamber holds the outer saline filler. Between these shells are one to three baffle shells. This internal structure is designed to control movement of the saline inside and is what gives the implant its natural feel.
Your Next Step

Selecting the right breast implants is not a one-size-fits-all process. There are numerous considerations, such as your particular anatomy, your lifestyle, and the look and feel that you hope to achieve. For some women, saline implants are the right choice, while for others, silicone makes the most sense. Dr. Bogdan has the experience and the knowledge to help you choose the most appropriate implant for you. In his Grapevine office, Dr. Bogdan uses the state-of-the-art Vectra XT system to help women make decisions on implant size choices, by simulating the surgery in 3D. To read Dr. Bogdan's answers to some common breast implant questions, please visit the Breast Implants FAQ page.
Request a consultation with him using the online form, or call our office at (817) 442-1236 to schedule an appointment. He will be sure to answer all of your questions so that you feel confident in your choices.