2301 Plastic Surgery: Michael A. Bogdan, MD, FACS
2301 Westgate Plaza
Grapevine, TX 76051
Phone: (817) 442-1236
Monday–Friday: 9 a.m.–5 p.m.

Mommy Makeover Before & After Case 115
*Keep in mind that each patient is unique and your results may vary.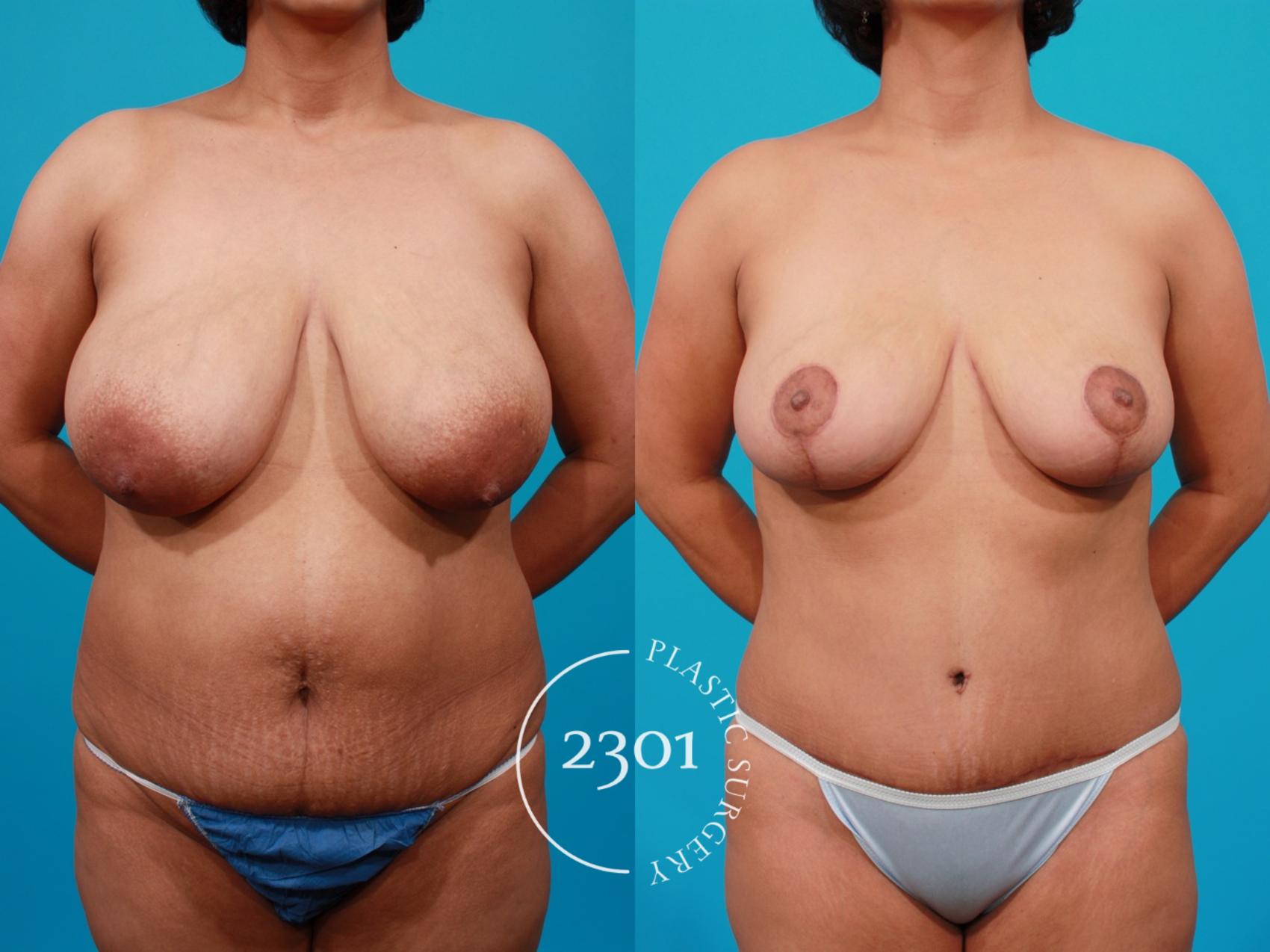 Before & After

This 37 year old woman from Fort Worth visited my Southlake plastic surgery office interested in a Mommy Makeover. She had raised 4 children, and now wanted to rejuvenate her figure. Despite exercising 2 to 3 times per week, she was not seeing the changes that she hoped for as she could not overcome her lax skin. She desired a breast reduction in combination with a tummy tuck procedure. She had droopy D cup breasts, and desired perkier breasts that were more proportionate to her frame.

During our examination, I noted that she had large ptotic breasts with very large areola. She was asymmetric both in volume and position on her chest (the right breast was both larger and higher on her chest). From childbearing, she had a significant amount of skin excess on her abdomen, as well as muscle weakness. I agreed that a small breast reduction in combination with an extended abdominoplasty would be appropriate for her.

The surgery proceeded very smoothly. For her breasts, I performed an anchor incision breast reduction where I removed 300gm on the right, and 250gm on the left side. With this procedure, I was able to lower the right sided breast fold to improve her breast symmetry. I additionally made her areola smaller and more proportionate to her breasts. With the abdominoplasty, I removed 1.3kg of skin and tightened up her weakened stomach muscles. The surgical time was just under 5 hours, and she had a smooth recovery.

Her post operative photos were taken 4 months after surgery, and she is very happy with her results. She loves her new breasts!! (At a recent party, an inebriated woman asked her if she had implants!) She is back at her full exercise routine, and can now do formal sit-ups – an exercise that she could not perform before the tummy tuck.
Surgeon: Michael A. Bogdan MD
About This Patient
Breast Incision Type
Inverted T
Back to Top